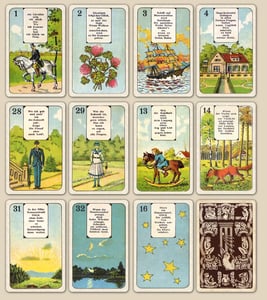 $

43.00
*Attention* Lenormand cards will now be poker size 2 ½ inches by 3 ½ inches. My printer discontinued bridge size cards.
This turn-of-the-century c.1900 deck is identified on the Key card by the Stralsund coat of arms.
The Gentleman and Lady, and Child all wear clothing for the new century that is quite a departure from the fashions of the late 1800s and clearly identifies the deck as newer than the Stralsunder deck that is dated 1890.
The easily recognizable symbols with no random artistic embellishments make this deck easy and delightful to read.
The Lady and Gentleman in this deck face forward, which is different from most of the other Lenormand decks. But like most of my other decks this one has the extra Gentleman and Lady cards that can be used for same sex readings.
It's printed on premium card stock and comes in a luxurious velvet bag.
Even if you don't buy my cards, be sure to check out the original Philippe Le Normand instruction sheet in the 'Info' column on the right side of the screen. Right click on the image and select "view image" so you can print it.
INTERNATIONAL BUYERS:
Delivery can take anywhere from 2 to 8 weeks. Please be patient.
I use a different printer for ex-USA buyers because the international postage from the US-based printer is extremely high. For international buyers the tarot size cards come in a plain tuck box and Lenormand cards come in a clear plastic box because that printer doesn't offer reasonably priced custom printed boxes. The decks come with a title card you can affix to the boxes, if desired.
SHIPPING NOTE -- PLEASE READ.
To keep down the shipping costs, I send the cards via regular mail. If you want upgraded service, contact me I can let you know what the additional charge will be. If the postal system in your country is questionable, you may want to invest in registered mail which is signed for each time it passes through someone's hands and almost guaranteed that your package will arrive safely.
I have had only 2 packages go missing, and I refunded the purchase price including shipping. Since it's not my fault when a package goes missing I WILL NOT take responsibility anymore, but I also don't want to raise shipping for everyone. The 2 places where the packages went missing were India and Brazil. UPDATE: I just had one go missing in Ukraine.

I only ship Registered Mail to Russia.